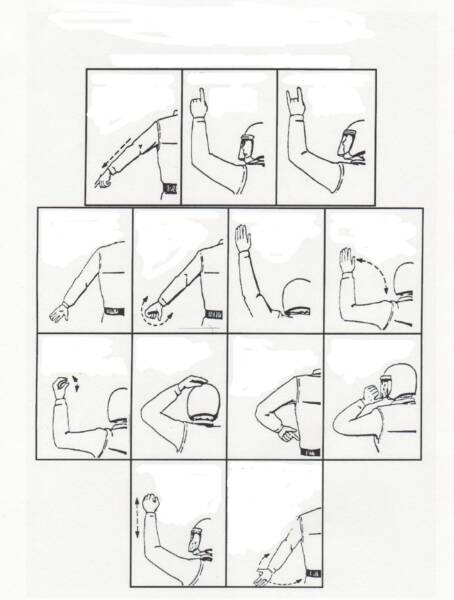 Hand Signals for Communicating While Riding

HAZARD IN ROAD

Point immediately with emphasis. (Sometimes this must be done with the right hand.)

SINGLE FILE

    Arm and index finger extended straight up.

STAGGERED FILE

Arm extended straight up with "Rams Horn" sign.

STOP (Slow Down)

Arm extended straight down, palm back. Animal or physical hazard in road, point to hazard.

SPEED UP

Arm down to side, fist clenched with twisting motion as if turning the throttle

FOLLOW ME

Arm extended straight up from shoulder, palm forward.

PULL OFF

Arm positioned as for right turn, forearm swung toward shoulder.

TURN SIGNALS

(Accidentally left on)

Open and close hand with fingers and thumb extended.

HAZARD RIGHT

Extend your left arm upward at a 45 degree angle with your elbow bent to 90 degrees and point towards the hazard over your helmet.

FUEL

Arm out to side, upper arm about 45 degrees below horizontal, forearm pointing to tank with forefinger extended.

FOOD, COFFIE STOP

Fingers closed, thumb to mouth

COMFORT STOP

Upper arm extended horizontally, forearm straight up, fist clenched with short up and down motion.

YOU LEAD

Arm extended (palm forward) down. Begin behind hip and swing forward in an arc away from body about 45 degrees from vertical.

COME ALONG SIDE

Same motion as you lead, but stop at side and point to position for other cycle.